Las Vegas is the lightest city in the world physically with all of the neon but the darkest city spiritually and emotionally. It's a very greedy and self indulgent city.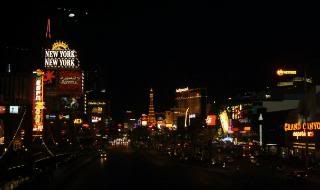 Even though prostitution is legal, the women cannot solicit themselves on the street. So, they have a bunch of different people passing out cards with their phone number on it. These people passing out the cards are everywhere on the strip and they are varying in age and ethnicity. Here's one of them: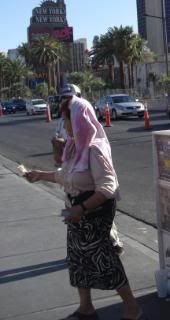 Can you believe that? This is like a grandma advertising prostitutes. The cards usually have naked girls on them. So, many people take it not knowing what it is. Also, people throw down the cards, so the street is literally littered with porn. Brock always speaks to the people passing out these cards. They never reply. One night, Brock said, "No nudities," to one of the guys as he passed by. The guy laughed and said, "Not tonight." That's the only response he got from any of them.

One day, we saw a couple pass us. Then, we saw a man running after them. He chased them all the way down the street until he got back his stolen articles. He was a store owner and the couple had taken some jerseys or something. Who knows why they felt the need to steal.

Brock took one homeless guy out to lunch and gave this guy a pizza. They both told him that heroine put them on the streets. I hate heroine!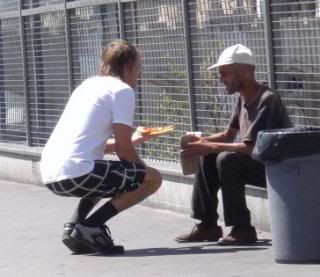 For all of its darkness, I feel a pull toward this city. I want to pray for it even while I am at home. Please pray for the city as well. There are many hurting people in Vegas.