For the next few days I am going to tell stories from the time we lived on the road. For two years (2001-2002) we lived in our truck. It's actually called a totorhome. People use it to haul racecars. We used it to carry a magic show, and we lived in it. We had no other house or home. Here is the Freightliner: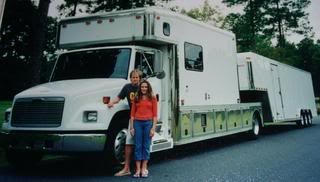 Inside, we had a bed, couch, tv, kitchenette, and bathroom.

It was a fun time. After finishing a show, we would go back and sit in the truck and pull out the atlas. Then, we would decide where we wanted to go before our next show.

We traveled all over the country in that truck---Yellowstone National Park, the Grand Canyon, California, Washington state, Washington D.C., New York City, Niagra Falls, Pensacola Beach, FL, etc.

This last one was our favorite place to go. During those two years that we strictly lived in our truck, we stayed at a campground in Pensacola, FL called Fort Pickens a lot. It was situated on the end of the island surrounded by the whitest beaches and beautiful emerald colored ocean. There were many a mornings when I would step off of the truck and directly onto the sand.

We stayed in campgrounds, truck stops, and Walmart parking lots all over the nation. We also stayed at our parents' or friends' houses for extended lengths of time. Life on the road is an unusual life with extreme experiences which you will soon see...